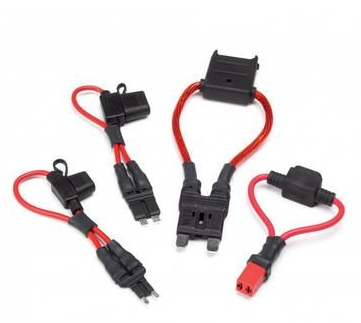 Fuse Breakout Extension Lead Set
Sale
Sale
Original price
$99.99
-
Original price
$99.99
Fuse Breakout Extension Lead Set allows you to measure the current flowing through automotive fused circuits enabling the identification of faulty circuits, components or abnormal current drain.  Using a breakout extension lead provides a convenient point to connect a current clamp to measure the amount of current flowing. The set consists of 1 each of the ATC/ ATO fuse , Mini Fuse, Maxi Fuse and JCase breakout leads.
The fuse extension leads are simple, easy to use and will save you valuable time during your vehicle diagnostics. Just follow this guide:
Remove the fuse from the circuit you wish to test from the fuse box.
Replace it with a fuse extension lead and then insert the original fuse into the socket on the extension lead.
The current flow can then be measured by connecting your current clamp over the extension lead cable and connecting it to a multimeter or a handheld or PC based oscilloscopes from; PicoScope, Hantek, Uni-T, TiePie, CarScope, Autel MaxiScope, Sealey, Bosch, Snap-On, Fluke.